Take
$25 Off
Any Cleaning Service $149+
Special Ends
Why Customers Choose Bluegrass Cleaning Company
All-Natural Cleaning Solutions: Our cleaning products do not emit toxic odors and are made from 98% readily biodegradable cleaning agents.
Super Fast Dry Times: Using a low-moisture cleaning process we are able to get your carpets, rugs, mattresses, and other upholstery clean and dry within 2 hours.
Experienced Technicians: All technicians are thoroughly trained, background checked, and screened for illicit substances.
100% Satisfaction Guarantee: All of our cleaning services are backed by our famous 3-way guarantee. If you're not happy, it's free!
On-Time Arrival Promise: Appointments are booked with a one-hour arrival window. If we are late to arrive, your scheduled cleaning is free.
We Have A Cleaning Package For Every Situation & Budget
See What Our Customers Have To Say About Us
I love working with Bluegrass Cleaning Company! This local business cares deeply about our community, and providing the best services using pet and family-safe, environmentally friendly products. When the priorities of a company are to first and foremost ensure that the employees and customers are completely satisfied with their practices, it follows that the entire process is going to be a 5-star experience.
Kevin and Maya did an excellent job and I highly recommend them. They kept me updated on when they would be arriving, did a very good job cleaning my upholstered furniture and area rugs, and Maya made my carpet stairs look like new!!
Bluegrass Cleaning Company is an excellent choice for making your carpets fresh and clean! We scheduled them to come on a Saturday so the carpets in our home could be cleaned before we moved in. William showed up on time for the walkthrough, provided an estimate, and started cleaning within half hour. At first, I was nervous that he was there by himself but since we didn't have any furniture to move, William was still able to get the job done as scheduled. Our carpets look great! We will definitely call on Bluegrass Cleaning Company and William for our future carpet cleaning needs!
I had a great experience with Bluegrass carpet cleaning. They were prompt, efficient, thorough, professional and courteous. They cleaned up after the job and left my home in perfect order. I will definitely use them again and highly recommend them.
Thank you so much for cleaning my carpets and couch. I am so happy, it looks like I have new carpet. Thank you for getting Serita's (my dog) stains out of the carpet and that spot the kids spilled something on years ago. The arm of my couch was so dirty, it looks just like it did when I bought it now.
You and your son did an amazing job and I really appreciate how polite you all are.
I will definitely tell all my friends about you. Thank you again.
My mom's dog had a field day with one fairly expensive rug and one cheaper shag rug. Kevin picked up my rugs and returned them about 2 weeks later as good as new-- he even helped me move furniture to put the rugs back where they go! They look and smell fantastic.
Jamie Elizabeth Pursifull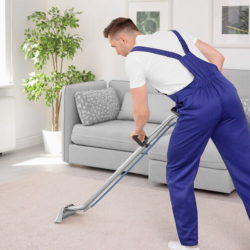 Professional Carpet Cleaning Service
Our professional carpet cleaning service dries faster, smells better, and feels softer than the competition. The low moisture cleaning process we use actually requires only about 20 percent of the water of a traditional steam cleaning service. So your carpets are cleaned using the science and chemistry of removing dirt and not just flooding the carpets with a lot of hot water. Your carpets will dry much faster when using Bluegrass Cleaning Company and our revolutionary cleaning process.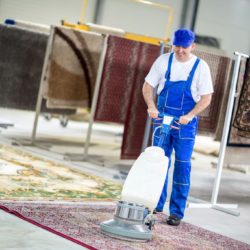 Area Rug Cleaning Service
Most oriental area rugs are placed on top of hardwood floors. Area rugs can make any room look great however what do you do when you want to have your rug professionally cleaned? A lot of other companies use gallons and gallons of water that can leave a wet mess and potentially damage your beautiful floors.
Not with Bluegrass Cleaning Company and our low-moisture area rug cleaning service! Our cleaning process focuses on the science and chemistry of getting fibers cleaned. Not just flooding them with lots of hot water and hoping they look better once done. Our process uses 80% less water than traditional steam cleaning companies. We focus on cleaning only the fibers of the rugs and never use enough water to get the backing wet. Call today and bring back the beauty of your treasured area rugs!
Pet Urine Removal Service
Our pet urine removal process is safe for you and your pets. Using the power of liquid oxygen we pre-spray the contaminated urine spots and use special machines to work the product into and between the carpet fibers. We then allow the product to dwell for ten to fifteen minutes. This allows the product to attack the urine crystal which is what causes urine to smell especially on hot and humid days.
Once our special pet urine removal cleaning agents have done their job we use special machines to extract the solution from the carpet before applying a natural cleaning and conditioning agent. These products leave your carpets smelling fresh and feeling soft to the touch. Call today and ask about our special pet urine odor and stain removal service.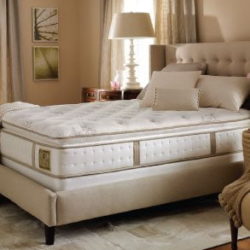 Mattress Cleaning Service
We spent 1/3rd of our life sleeping. Shouldn't we get the best sleep possible? Sleep better and breathe easier with a professional mattress cleaning from Bluegrass Cleaning Company. Our mattress cleaning service uses only safe, environmentally friendly cleaning solutions for your safety and health. Customers with diminished lung capacity such as COPD, Asthma, and Major Allergy sufferers love having their mattresses cleaned by us. For best results, we recommend scheduling your appointment during the morning hours so your mattress will be thoroughly clean and dried by bedtime. Call today and ask about our green-certified mattress cleaning options.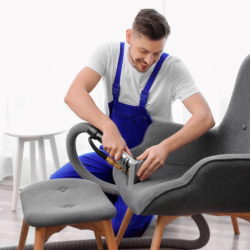 Upholstery Cleaning Service
Most of our competition uses only one process to clean upholstery… steam cleaning. While we also offer the steam cleaning method, not all upholstery should be cleaned using hot water extraction. Specialty fabrics often require low-moisture or dry cleaning compounds. When scheduling your upholstery cleaning service with Bluegrass Cleaning Company you can rest assured that even if your fabrics require dry, low-moisture, or steam cleaning then we can get the job done. Best of all, we do not charge extra for these services! Call today and ask about our Upholstery Cleaning Services from Bluegrass Cleaning Company.
Still Have Questions? We've Got Answers!
Can you provide me an exact quote?

Yes, we will need to set a time on your schedule to come by and spend approximately 20-30 minutes so we can evaluate the areas and take measurements of the space you would like cleaned. Call us or select ``Free Estimate`` from the online scheduling form.

Are your cleaning agents safe for my pets and kids?

Yes, we use only eco-friendly cleaning agents that are safe for both pets and children. They emit no toxic fumes or odors so you're left with a clean, fresh smell once we are finished.

How long will it take for my items/areas to dry?

Our low-moisture cleaning process will leave your carpets and other items dry in about two hours. We also offer dry cleaning and traditional steam cleaning processes if required.
What is your famous 3-way guarantee?

1) If our cleaning fails to meet your high standards of excellence OR 2) If we are late for your appointment OR 3) If our technicians are not the most cheerful, pleasant people you've ever done business with, it's FREE.

Do you offer any additional discounts?

We offer an additional 10% off to our military, first responders, and public education professionals. Remember to tell your cleaning technician on the day of service.

What if I don't like the service?

We offer a 100% satisfaction guarantee for our services. If you feel our cleaning has not met your expectations we will happily provide a refund, no questions asked.